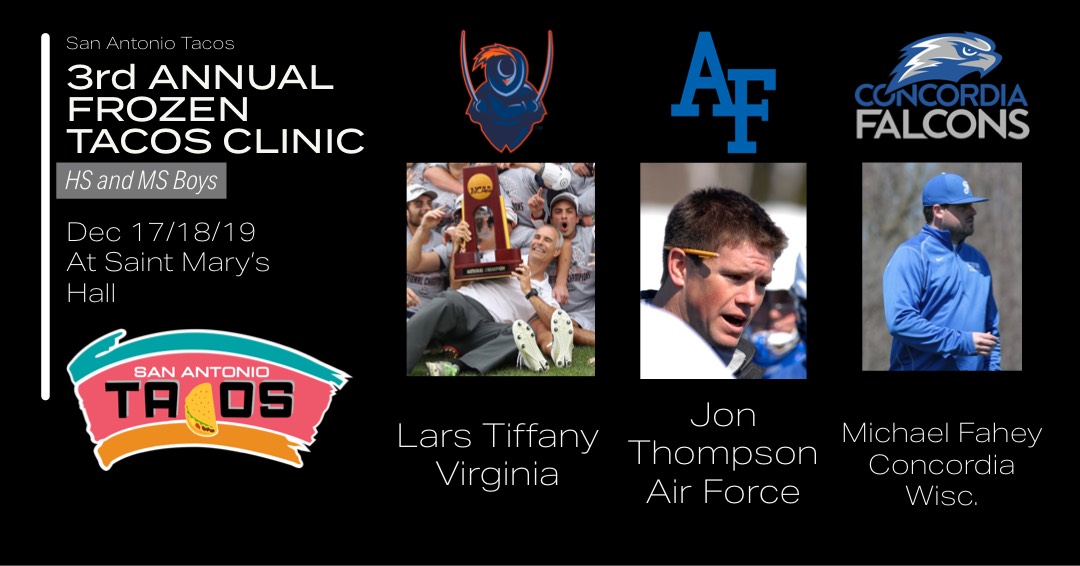 2021 FROZEN TACOS LACROSSE CLINIC
What...
San Antonio Tacos "Frozen Tacos" Winter Lacrosse Clinic for High School and Middle School lacrosse.
Players should bring: Helmet, Mouthpiece, Shoulder Pads, Elbow Pads, Gloves, Stick, Athletic Supporter, Cleats and Water.
Who...
All High School (2022-2026) and Middle School (2027-2029) players looking to improve their game.
Where...
St. Mary's Hall Lacrosse Field
9401 Starcrest Dr.
San Antonio, TX 78217
When...
High School Schedule:
Friday 12/17 7pm-9pm
Saturday 12/18 11am-1pm and 4pm-6pm
Sunday 12/19 12pm-2pm
Middle School Schedule:
Saturday 12/18 9am-11am
Sunday 12/19 10am-12pm
Why...
To learn from world class coaches and strengthen lacrosse skills.
Learn new skills and concepts through drills and competition.
Cost...
4th-7th Grade:
$175 per player
8th-12th Grade:
$350 per player
We are excited to announce our third annual Frozen Tacos Holiday Clinic in December. The coaching staff that has been assembled come from championship and professional pedigree. They will bring their experience and knowledge to help the San Antonio lacrosse players improve. Our coaching staff will supplemented by our Tacos staff and Tacos alumni who are current college players. Don't miss out!